Stuart's debut album UTOPIA now available to purchase via selected independant music retailers and will also be available online also.
Have various tracks from the album on myspace pages at www.myspace.com/blance
and
www.myspace.com/stuartblanceacoustic.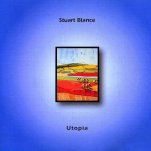 UTOPIA Features 13 tracks:-
Lifeline, Memories, Storm before the calm, Utopia, For Elise, Slower than the flow, Burnout, On a high, Fact or Folklore, Anytime, Alone, Groovy People and Comin on up.
---